Level Up
*Please note, this content is informational, and not legal advice.
The information below primarily applies to the United States.
Building Traction
Bill Warren, co-Founder of the Duke Law Tech Lab, shares about the importance of traction.
Marketing your product
How will people learn about your product?
Do you need to demonstrate that they have a problem that needs solving, or are they already looking for a solution like yours?
Beyond the problem and solution, what other information do customers need in order to give you their money? Do they need to see a demo or have a free or low cost trial? Do they need a reference from someone who has used it already?
You'll need to have a clear value proposition that you convey in your marketing: a clear statement that offers relevancy (how your solution solves customers problem), specific benefits (usually quantifiable), and differentiation (from competitors or the current way of doing things).
If you're selling a legal tech product to lawyers, they can be hard to reach and ultimately convert into a customer. Narrowing your total market to an addressable market (also called the "beachhead"), like in-house counsel or law firms or nonprofits.
If you're selling a legal tech product to the general public, they may still be learning to trust legal tech as a reliable product. The general public may need more education about how the legal system works generally. It can also be more expensive to find potential customers.
Disruptive products that expand the market often take longer to get established and require significant time and marketing to educate potential customers. Innovation on the product side can be easier to get to market compared to when you are innovating to create a new market.
Questions about the regulatory framework in your target market?
Check out the ABA Center for Innovation's map or the IAALS Unlocking Legal Regulation Knowledge Center.
Piloting your product
Developing a user base and traction matters to the success of your company, no matter your desired exit. If you don't have a product that people want (whether they know it yet or not), your business won't make it. Some Founders provide their product for free or at a very low cost to the initial users in order to get feedback and establish their reputation. Others provide incentives for referrals or reviews after a successful paid pilot.
Piloting your product and showing traction is usually required for acceptance into an accelerator or incubator as well as for many types of funding described below. It is one of the key steps to having a successful proof of concept.
Growth & ROI
Growth (and keeping your doors open!) generally requires that your return on investment (ROI) becomes positive: your profits are higher than the cost of acquiring, onboarding, and keeping your customer with quality customer service.
You may need to be flexible in your pricing structure or how you onboard new customers in order to find and keep customers – pay attention to the feedback you get from customers. If you're not getting feedback, find new ways to ask!
Founders typically launch their produce with the beachhead market while keeping in mind the total addressable market (TAM). Because legal tech is a young industry in many ways, you can't just google the TAM – it takes thoughtful calculations to know how big you could reasonably scale.
All Founders must be (or get!) comfortable talking to other people about their idea.
What does a pitch involve?
It's typically a story about the problem you're trying to solve, who you are and why you're qualified to solve that problem, and what the solution is.
Asking others for feedback on your idea, your (current) prototype, or your MVP requires a pitch that clearly explains the pain point you're trying to solve and why your solution is the best one. Pitch to as many people as you can; don't hide your idea. Just because someone else hears your idea doesn't mean that they will be able to steal it. The more conversations you have about your idea, the more feedback you get, and the more you can refine your product and plan.
Asking others to help fund your startup requires a great pitch that also explains why you're the best person to run this company, what feedback you've received from customers already, and how your business could or does work.
This article from our 2019 Duke Law Tech Lab pitch coaches, Stephanie Scotti and Helene Bumbalo, talks about what makes a successful pitch at a public event like our Demo Day.
Check out the Kaufman Founders School's detailed series about giving good presentations. The information here feels like what a coach might tell you and walks you through different steps with short videos.
Yousef Kassim, CEO of Easy Expunctions,
shares what he's learned about pitching:
Funding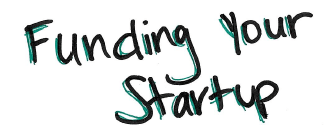 Even before you are able to bring in revenue from selling your product, you may wonder how you'll pay for expenses.
Startups use a variety and combination of funding, depending on each Founder's personal access to resources, risk preference, and desired exit from the company.
Personal Funds
The greatest amount of funds put into startups is from the Founders themselves, using their personal time and resources.
Family & Friends
A very common type of funds, family and friends may be willing to contribute to your startup because they believe in you or your idea.
Remember that you're taking money from people you know, and your relationship with them may be impacted by this decision.
Grants & Prize Money
A wide variety of organizations provide grants or opportunities to compete for prize money: local entrepreneurship organizations, private foundations, large corporations, law firms, and small business centers. Some may have specific requirements, while others may be unrestricted.
Bank Loans
A personal or business loan can be one way to keep the doors open.
The terms for paying back loans should be carefully considered. What's reasonable based on your current growth? What happens if that trajectory changes?
Crowdfunding
There are multiple popular crowdfunding platforms which may bring in funds to make your startup possible. Crowdfunding aims to extend beyond your known family and friends, and also gives a strong sense of market interest in your product.
Angel Investors
Angel investors may invest individually or in networks.
Learn more through the Kauffman Founders School series on angel investment.
Venture Capital
The National Venture Capital Association (NCVA) describes how VC funding works at a high-level.
In general, before meeting with a VC firm, Founders will want to be prepared with an executive summary and a brief slide deck about their business, including the desired amount of funds.
Pro tip: NCVA spotlights various VC firms on their blog!
Researching your options
Regardless of what options you use above, you'll need to be thoughtful and research each funding option.
Have they funded legal tech companies before? While a quick internet search may give you some information, it's helpful to know about the following popular tools.
Keep in mind that anyone investing in your company will also be researching YOU as well.
AngelList
AngelList includes company information about startups, including a job posting board and streamlined application process for folks looking to work for startups.
Crunchbase
Among other offerings, Crunchbase provides access to company, investor, and funding data via a database on their website. Founders may use this service to look for investors, competitors, and conduct market research, or may also seek to add their own information here to expand their network.
PitchBook
PitchBook's database on venture capital, private equity, and mergers and acquisition deals may help Founders learn about their competitors, the latest deals, potential investors and service providers.
Signal
Signal is a free online database from NFX which helps startups track their fundraising and identify opportunities and connections with VCs.
Read the FAQs: https://signal.nfx.com/faq
Accelerators & Incubators

Once you have a functional MVP and some traction, you may want to participate in an accelerator or incubator.
Accelerators and incubators are longer programs (compared to something like a shorter startup weekend, design sprint, or hackathon that generates ideas and earliest prototype) that can connect you to a startup community.
From large national accelerators like Y Combinator, Google for Startups Launchpad Accelerator, or TechStars, to community-based local options in your town or region, accelerators can help you:
make connections (with other Founders, potential investors, mentors and advisory board members)
access resources (such as investment, office space, support for travel, pitch coaching, or research assistance)
gain media exposure (such as on social media, at Demo Day)
iterate your product design or business strategies
Programs vary in length and requirements, and may come with grant funds or investment funds, require equity, or even have a cost to participate. They also support different stages of companies, so it is important to find one that is the right fit for you.
Different accelerators have different requirements and support companies in different stages.
However, accelerators and incubators can take time away from the tasks you might be doing to build your business; consider the value you expect to get from the program before spending time and resources to apply and participate.
Read more about how to know if it's the right time for you to apply to an accelerator at this post on Medium by our Managing Director.
Legal Tech
Accelerators & Incubators
Here is a list of legal tech specific accelerators/incubators. The ABA also maintains a list of lawyer incubators that are aimed to encourage innovation.