What We Do
We accelerate the next generation of startups that will change the way legal services are delivered and increase access to justice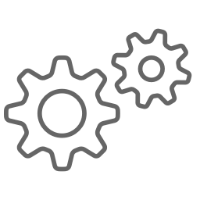 Build
We are building a community
We are looking for hard-working, creative entrepreneurs who are passionate about changing the way legal services are delivered.
Connect
We connect you with valuable partners and mentors
Our ten week program involves 1-hour weekly virtual conferences with leading legal technology entrepreneurs, innovative law firms, industry consultants, court administrators, CTOs, angel investors and VCs committed to investing in early-stage tech products. We bring in thought-leaders from the legal profession and coaching experts to hone your pitch and enrich your understanding of the legal services ecosystem.
Grow
We are here to support your growth
Our mission is to strategically tailor resources to help your startup thrive, from access to highly intelligent interns through Duke University and leaders in legal tech fields, to showcasing your product at the Duke Law Tech Lab Demo Day.
Our Mission
The Duke Law Tech Lab (DLTL) is a program of the Duke Center on Law & Tech at Duke University School of Law.
Our mission is to help your legal tech startup thrive by building community among legal tech entrepreneurs and providing access to high-quality content needed by many early stage founders and teams who may be leading their first entrepreneurial venture. As of 2020, we focus our accelerator exclusively on startups with a mission to increase access to justice but continue to provide resources here on this site for all legal tech entrepreneurs.
By the Numbers
Who We Are
We're an entrepreneurial team with experience in startups, law firms, investing, and academia
Leadership
DLTL is coordinated by faculty, staff, and students at Duke Law under the Duke Center on Law and Technology, led by Director Jeff Ward. We are supported by an advisory board (below) of legal tech leaders who help us strategize and provide feedback.
Judges
We recruit our application judges from Duke Law's network of legal tech leaders invested in supporting innovation in legal service delivery.
Speakers & Mentors
We connect our teams with experts, law firms, justice system stakeholders, student interns, angel investors, venture capitalists, innovators, pitch coaches, marketing experts, influencers, and others from Duke University's extensive network.
Founders
Duke Law Tech Lab was launched in 2017 by Duke Law students, alumni, and faculty, and led by the efforts of Duke Law alum Bill Warren, who now serves on our advisory board.
Advisory Board
Andrew Arruda
Flexpa
Bill Warren
Opolis
Co-Founder of the Duke Law Tech Lab
Camille Stell
Lawyer's Mutual Consulting & Services
Chris Martin
Latham & Watkins
Ed Walters
vLex
Elizabeth Stone Gerding
Brooklyn Investment Group
2017 Duke Law Tech Lab
Felicity Levey
Paladin
Jeff Pfeifer
LexisNexis
Jim Wagner
Lean Law Labs

Why work with us?
We continue to evolve the Duke Law Tech Lab to help address the most pressing challenges facing early stage legal tech companies:

The vast majority of our Founders are lawyers or experienced as self-represented litigants – not serial entrepreneurs or MBAs – who have seen a gap or need in the legal profession and are developing a solution.
The market for legal tech products, both BTB and BTC, is unique and continually evolving as more individuals, governments, and companies embrace the use of technology in the legal and civic sectors.
While many startup founders in all industries feel it is a lonely road, legal tech entrepreneurs are in particular need of support from other legal tech leaders.

The DLTL provides a platform for our teams to engage with legal tech leaders, law firms, justice system stakeholders, student interns, angel investors, venture capitalists, innovators, influencers, and others from Duke University's extensive network.

FAQS
When does the next application open?
We'll post information here when we're accepting applications for our next cohort. Email us at dukelawtechlab@law.duke.edu or fill out the Contact Us form below to let us know you'd like to be notified about future program offerings. Follow the Duke Center on Law & Tech on Twitter or LinkedIn for the latest updates!
What is required on the application?
We don't want the application process to be burdensome, as we consider this program "light-touch." Generally, our application requires the following minimum information:
Contact information for team members who plan to participate in the program, including a team leader and up to two additional team members. We also as for a brief bio of your team leader.
Company basic description and information, including links to any social media accounts or websites, the amount of funding you have raised so far, and how your company is legally structured under state law in the United States, if applicable
A slide deck or business plan which includes information about your product, market potential and traction, and team members. Usually 10-15 slides in a .ppt, .pdf, or .key file will suffice.
Are there deliverables or milestone requirements?
The Duke Law Tech Lab is intentionally a "light-touch" pre-accelerator. As such, we do not ask anything burdensome of participating teams. We will, however, ask teams to work on tasks that bolster company growth and prepare to present at Demo Day at the end of the program. Because the Duke Law Tech Lab also aims at early-stage teams with highly individualized needs, these specific tasks are likely to depend on the particular needs of your company in light of advice from your team mentors.
Does the DLTL require an equity stake in the companies who participate?
No. As a light-touch accelerator, we do not require any future equity in your company.
Do you accept companies outside the US?
In order to provide the best support to our participants possible, we only accept US-based companies for our Duke Law Tech Lab program.
If your company is based outside of the United States, we would still love to connect with you! We love finding opportunities to highlight international companies with our students and sponsors.
Do we need to be affiliated with Duke to apply?
No! It is not a requirement for the program – in 2020 & 2021, none of our teams had a direct connection to Duke, though we have worked with alumni in the past. We will ask you on you application if you have any Duke connections, as we may be able to offer different resources if so.
What is Demo Day?
Demo Day is an exciting opportunity to showcase new and innovative legal tech products in front of other #legaltech leaders. It is a celebration event involving other entrepreneurs, technologists, lawyers of all stripes, big law firm management, investor networks, and many more. Our 2020 event was virtual.
What is the Duke Law Tech Lab's impact?
By harnessing our entrepreneurial ecosystem in legal tech, we help founders learn from each other, legal tech leaders, subject-matter experts, and key industry players. Past teams have seen success such as:
increased users,
acceptance into a residential accelerator,
substantial start-up funding from third-party investors,
the founding of advisory boards, and
beta tests of their products in new markets.
What have previous participants said about Duke Law Tech Lab?
"Participating in Duke Law Tech Lab allowed me to connect with mentors, researchers, and fellow entrepreneurs who are similarly motivated to expand access to justice in light of the stark inequities in our civil and criminal legal system today." – Devshi Mehrotra of JusticeText (2020)
*****
"Every early-stage legaltech startup deserves a Duke Law Tech Lab experience. Our win is a result of everything the program poured into us." – Sonja Ebron of Courtroom5 (2019)
*****
"We are so grateful for the Duke Law Tech Lab for putting together an informative and engaging 13-week program that introduced us to industry leaders who have experience building successful legal tech companies." – Yousef Kassim of Easy Expunctions (2019)
*****
"Participating in the Duke Law Tech Lab was a boost for our new company, and it came at the perfect time. We learned a lot about how to grow and improve our services, and made many good connections. Above all though, the program provided us with invaluable validation and legitimacy. Thanks DTLT!" – Brandt McMillan of Smart Lien, LLC (2018)
*****
"Having the opportunity to meaningfully connect with likeminded individuals and teams doing innovative work in the legal space was one of my favorite aspects of the accelerator. The weekly informative but casual meetings kept me focused on business strategy, growth, marketing and overall presentation of myself and our company. … What has surprised me the most is how willing the speakers and advisors are to connect and mentor. I expected maybe a 20-30 minute chat with key players in the industry and instead, I've been able to grow my advisory board and start executing on expansion plans." – Erin Levine, Hello Divorce (2018)
*****
"Skopos Labs was at a critical early stage of development and the content and delivery DLTL provided was on target and of immense value… All of us at Skopos Labs are grateful for the chance to work with DLTL and we'd recommend any legal tech startup apply!" (2017)
*****
"The Duke Law Tech Lab did more that just help our [vTestify's] business, it helped to develop and nurture our team. Meeting with industry leaders, discussing sales/marketing strategies, and building on our skill sets helped to enrich not only our company but also every member of our group. These are skills that will be invaluable long after the intensive work of nurturing a startup fades." (2017)
*****
"We took great pride in being selected as one of the participants in the Duke Law Tech Lab ('DLTL'). Duke has an unbelievable reputation, and this experience was a jolt of energy and confidence that has helped us double down our efforts in making TrustBooks successful." (2017)
Meet the companies
Click on each logo below to visit that company's website.
2021
2020
2019
2018
2017
Contact Us
Don't be afraid to reach out. You + us = awesome.